Oxford launches bid for World Book Capital 2014; Nook gets Microsoft's US$300m backing; US DoJ sues big five publishers and Apple; big three publishers sue e-textbook startup; Kindle authors make money; London Book Fair 2012; Tor says DRM no more. And that's a week (and more) in book news.
We made it to May 2012. Having read the news about million-dollar lawsuits by government bodies against publishers and by publishers against startups, and million-dollar investments in ebook platforms, it is hard to imagine that we – at least in the UK – is entering the second phase of a supposed "double dip recession". Surely all that money sunk into legal defence costs should be better spent on supporting book and ebook innovations, and content creation?
Book art and design
Chip Kidd, book designer, best known for his design cover for "Jurassic Park", explains the inspirations behind his best works.
Chip Kidd: Designing books is no laughing matter. OK, it is. (TED, April 2012)
To celebrate the publication of Designers & Books's 100th designer on Designers & Books, the title's blog is featuring book recommendations by 100 architects, fashion designers, graphic designers, interior designers, landscape architects, product designers and urban designers. Get ogling.
100 Designers/100 Books (Designers & Books, 5 April 2012)
We are used to hearing about publishers suing over copyright infringement, but over design layout? Pearson, Cengage Learning, and Macmillan Higher Education filed a copyright lawsuit against web educational start-up Boundless for 'copying the pagination and image-labelling' of their books.
Boundless, the Massachussets start-up which recently earned US$8m in venture funding, responded with a blog headlined "Game On", asserting that "…whenever there's a great party, there are bound to be crashers".
Publishing giants sue open textbook startup over layout (The Register, 12 April 2012)
$8M in Funding and a Lawsuit to Boot? Game on (Boundless, 5 April 2012)
Former web developer and founder of Spineless Classics, Carl Poppenheim, talks to Bookmachine.org about the concept behind the 'book in a poster layout':
How to get your favourite book on your wall; 5 questions for Carl Pappenheim of Spineless Classics – lead from The Publishing Training Centre at Book House (Bookmachine.org, 10 April 2012)
Like a book so much you want to eat it? If that's up your alley, the blog LibraryThing is organising an  "Edible Books Contest" where you can submit an entry based on a book's plot or inspired by a book's title or characters. "Puns are entirely welcome," says the organiser. Deadline: May 10, 2012.
LibraryThing "Edible Books Contest"! (LibraryThing, 12 April 2012)
And what on earth is a Penguin donkey? Enter the competition, win one and find out:
https://www.facebook.com/media/set/?set=a.283667478390130.66103.254551857968359&type=1

Book technology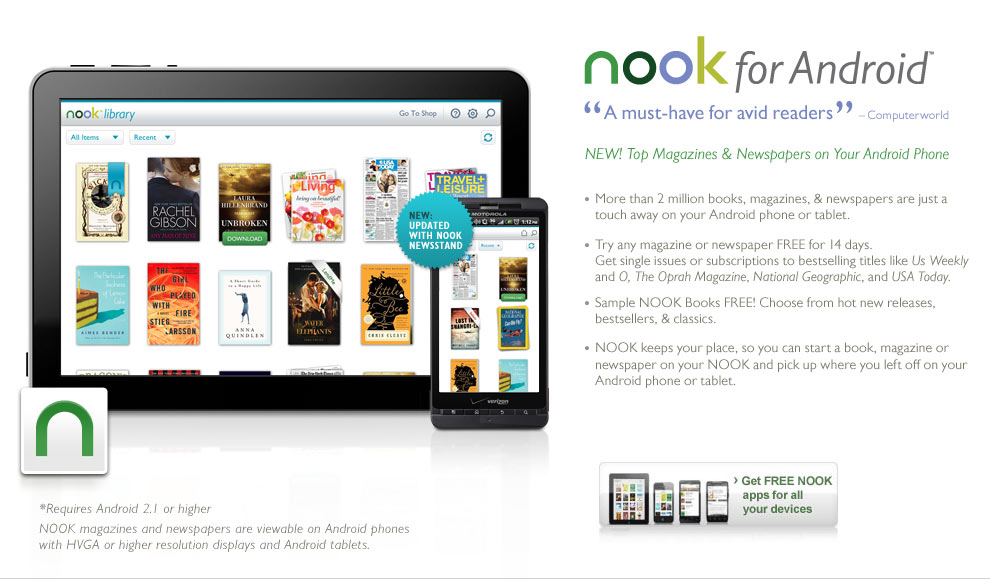 The Financial Times made it the front page headline: "Microsoft backs new Barnes & Noble unit".  Microsoft has committed to investing $300m in a new Barnes & Noble ebook subsidiary set up by the book retailer, thus pushing Nook's investment values at US$1.7bn.
Publishers Weekly, in its Facebook comment, describes it as "a surprising move". Surprising? Then Publishers Weekly should head out more to MoMoLo events and engage with mobile developers rather than talking to traditional book publishers. Also, it's worth the title asking around at mobile phone stores about Nokia's Lumia smartphone – which runs on Microsoft Windows platform – and find out why it is selling pretty well.
Barnes & Noble in Digital Partnership with Microsoft (Publishers Weekly, 30 April 2012)
Microsoft backs new Barnes & Noble unit (Financial Times, 30 April 2012)
At $1.7 billion, Nook is worth more than Barnes & Noble itself (GigaOm, 30 April 2012)
Following the footsteps of its US sister division, science fiction and fantasy writing publisher Tor UK is taking Digital Rights Management (DRM) off its e-book titles. Tor has announced that "from July 2012,  its entire list of e-books would be made available DRM-free".
Science fiction author John Scalzi welcomes the news, telling The Guardian that making the ebook DRM-free means that the book content is not tied to one tablet device, and that his fans can benefit from the 'buy once, keep anywhere' concept after July 2012.
Tor UK follows US in abandoning DRM (The Bookseller, 2 May 2012)
Tor rips up the rulebook on digital rights management (Guardian.co.uk, 26 April 2012)
That is certainly good news, especially after The Bookseller reported that one-third of Britons own an e-reader. It is not clear in the news report, however, if a smartphone or a tablet also counts as one.
'One third' of Britons own e-reader (26 April 2012)
eReaders, eBooks More Popular Than Ever, Survey Finds (Huffington Post, 5 April 2012)
"The first ever broadcast of The Naked Book heard from two big names in the e-book business explaining why that bit of code that prevents readers from sharing their e-books is also preventing moms from downloading e-books".
RadioLitopia's broadcast on "The Naked Book" suggests that moms prefer to read ebooks unaided, and key to moms' adoption of the ebook is "a cloud-based platform that syncs across devices".
Digital Rights Moratorium (or How We Learned To Mom-Proof E-Books) (RadioLitopia, 22 March 2012)
And how to optimise your ROI using mobile devices? Google has a book for that.
Google's Mobile PlayBook: The Busy Executive's Guide To Winning With Mobile (Mashable, 26 April 2012)
The universal digital library will soon be a reality, says the Los Angeles Times, but first, libraries must overcome the obstacles faced in digitising orphan works and out-of-print works that are in copyright.
A universal digital library is within reach (The Los Angeles Times, 1 May 2012)

Books and litigation
At times, books and ebooks make the headlines for the wrong reasons. By now, you would have heard about Hachette, HarpersCollin, Macmillan, Simon & Schuster, Penguin and Apple being sued by the US Department of Justice (DoJ). The publishers and Apple are being accused of colluding to fix ebook prices in a move to counter Amazon's domination in the ebook market. "Apple, Penguin and Macmillan want to protect the so-called agency model that lets publishers — not vendors — set e-book prices," Bloomberg reported. Oren Teicher, CEO for the American Booksellers Association, told Publishers Weekly that he found the DoJ's action "baffling".
Judge stays e-book class action case against two publishers (2 May 2012)
Apple sued over ebook pricing (FT.com, 11 April 2012)
U.S. Alleges E-Book Scheme (WSJ.com, 11 April 2012)
ABA Calls DoJ Ruling "Baffling" (Publishers Weekly, 12 April 2012)
Quran for your iPad?
http://itunes.apple.com/gb/book/sultan_baybars_qur%27an/id475725000?mt=11
Toshiba to release a 13-inch tablet. Will the coffee table book finally becomes a coffee table we can read?
http://mashable.com/2012/04/10/toshiba-excite-13/

London Book Fair
The London Book Fair, held between 15 and 17 April 2012, was an opportunity for Story Of Books to catch up with previous supporters of our London Design Festival project, such as Oxford Brookes International Centre for Publishing Studies and Matt Johnston of the Photobook Club.
We had an amazing time having wine and cake at the launch of the Oxford Brookes's Annual London Book Fair Reception, which saw the institution formally endorsing the City of Oxford's bid to be the World Book Capital 2014 (go on, Oxford!).
http://www.oxfordworldbookcapital.org/
At the show, we also spoke to the publishers behind the illustrated children's book series, Gussy the Ice Cream Man. The series, based on Mr Gus Bodur who has been an ice cream man for over 30 years, was written and illustrated by his daughter, Chloe.
Mr Bodur, who is dyslexic, says each book is designed to appeal to the most accessible level of literacy for children.
For "Gussy goes to London", Mr Bodur says off-white, not white, is used as the background colour for the text because it is easier for the dyslexic reader to digest. For that, the Story Of Books editor is grateful (Note: dyslexics see things in 3D. Some also make good writers, programmers and scientists).
http://www.gussytheicecreamman.com
http://bondingintl.com/intro.php
What we did not hear discussed openly at the book fair were the DoJ lawsuits and 'the Amazon problem'. And what we did not see at the book fair were any representations from Apple and Google.
The "Amazon Problem" comes to the LBF (Melville House, 18 April 2012)
Apple, Amazon, and the 'agency' model of selling (The Society of Authors, 17 April 2012)

Authors in the spotlight
Want a good excuse to write a novel? Best anecdote by Mishka Shubaly: "When I got my first royalty check from Amazon, I went to my boss at the bar and was like, 'Mike, I quit, dude,' and he was like why, and I was like 'Look at this check, man,' and he said, 'I'd quit too.'"
Exclusive: How Much Do Kindle Singles Authors Make? (Paid Content, 12 March 2012)
Books and the built environment
Some bookshops are indeed 'the cathedrals' of learning. The Lello Bookstore in Porto, Portugal, gets our approval.
Gorgeous bookshops (World Book Night)

Books and people
So what happens when you give Kindles to kids in Ghana? Kids learn to read quickly, with almost "near zero theft".
What happens when you give Kindles to kids in Ghana? (GigaOm, 27 April 2012)