Good Omens is about reluctant heroes and the triumph of independent minds. It is loved by many and the TV adaptation is a talking point even amongst those who haven't read or understood the book. Story Of Books was at the Southbank Centre in London to hear Neil Gaiman, Michael Sheen and David Tennant discuss how the book made its journey from page to screen.
You wouldn't have thought that Good Omens would divide opinions. Good Omens the book is a fantasy-comedy canon loved by many. Dark in some parts and bewilderingly funny in others, the novel combined the best of Neil Gaiman's and Terry Pratchett's storytelling. Gaiman is famed for his character developments and universes (think The Sandman). Pratchett is loved for his incredible plots, punchlines and comic timing (think Discworld).
The hardcore fans of Pratchett and Gaiman love the book unconditionally. That's fandom for you. Some, evidently not fans, don't get it. The Catholic Herald said that "Good Omens is a travesty of eschatology". Of course, this became an issue after the novel got adapted for television, where it's seen by many who haven't read the book. Christian group Return To Order had over 20,000 people petitioning Netflix to cancel "the blasphemous Good Omens". But the TV series were produced by Amazon, not Netflix. Right-wing trolls called it "liberal" for featuring ethnically diverse characters.
Had they turned up to hear Neil Gaiman talk about Good Omens at the Southbank, London, they'd probably understand that it wasn't intended to provoke. Also, the diversity of the characters in the TV series reflects the fan base of Gaiman and Pratchett: boomers, Generation X, millennials, Generation Z, kids, straight, gay, gender fluid, normcore, highly marked. These fans turned up at the event on 29 May 2019, and their expectations of the 1990 classic are very different from those of the critics.
Here we are waiting for @neilhimself to talk about #GoodOmens.#storyofbooks pic.twitter.com/EhF1briIeT

— Story Of Books (@Story0fbooks) May 29, 2019
"I made it for Terry. Terry loved Good Omens. I love Good Omens. I look around… You're not homogeneous. I made it for you."
Pratchett's wish
At the event moderated by journalist Kirsty Wark, Gaiman told us that the TV adaptation started with Terry's email. "We had known each other for 35 years. Terry had never asked me for anything," he said. "That came through. He wanted me to do it so he could see it. I said yes, I'll do it. But very soon after that, he died."
Gaiman flew in and out within 24 hours to attend Pratchett's funeral. When he got back, he wrote the script to Episode 1. Then, he got busy and took the next eight years to pick up where he'd left off.
"I miss Terry all the time," he said. "When we wrote the book, when I was stuck, I'd call Terry." Things are different now. "Every now and then, I get stuck, but he won't be there. When I do something clever, I want to ring Terry and tell him: 'Alright listen to this' and I couldn't. Next best thing was to tell his agent, Rob Wilkins."
"What I did feel for Terry made me write Good Omens."
Great expectations
Good Omens is about the triumph of reluctant heroes. It's about a devil who "did not so much fall as saunter vaguely downwards" and his best friend, an angel who'd prefer to stay a bit longer on earth than return to heaven.
Gaiman confessed that he felt the weight of expectations because Good Omens is "beloved". Actors Michael Sheen and David Tennant, guest speakers at the event, told us that they also felt the pressure. Fans know the book inside out. "They had over thirty years to be protective about the characters and the book," Tennant said.
The hardcore fans at Southbank were very gracious, however. They genuinely loved the interaction with the author and the actors, asking them to read out their favourite scenes and passages from Good Omens. They waved like mad at Gaiman (maybe that was just our editor) at the end of the event. They were only too happy to see Aziraphale and Crowley in person.
You have one (1) demon to thank for #NationalSelfieDay. 🤳 #GoodOmens pic.twitter.com/Bj1plvF0SH

— Good Omens (@GoodOmensPrime) June 21, 2019
Good casting for Good Omens
Sheen said he first got to know Gaiman's work when he was at drama school in London. His lecturer told him to read two graphic novels, Watchmen and The Sandman. Gaiman told the audience that Episode 2 was written with Sheen in mind. They had met up in Hollywood, California, US, a few years earlier when Gaiman was at the Oscars. Coraline, based on his novel, was nominated for Best Animated Film. Sheen had always liked the angel character Aziraphale but was asked to play Crowley, the devil, instead. Gaiman later decided to cast Tennant as Crowley. Up to that point, he wasn't aware Sheen had always preferred to play the angel.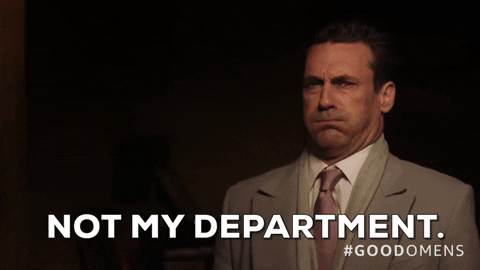 John Hamm of Mad Men fame was chosen to play the archangel Gabriel because "he looks like the kind of boss you want to punch in the face", according to Gaiman. Hamm, like Sheen, is a Gaiman fan. He had read Good Omens whilst at college. Nick Offerman, who plays the US ambassador, father of the 'wrong' Antichrist, was roped in three days before the shoot in South Africa. Academy Award winner Frances McDormand was approached when she rented Gaiman's holiday home on the Isle of Skye, Scotland. When asked if she'd like to voice the character of God, McDormand replied: "It will be in line with what my family long suspects".
Another own goal 🥅 by the light side. Must be part of Her ineffable plan, though we wish we'd thought of it first.https://t.co/hZxunPMESu

— The Chattering Order of St. Beryl (@chattering_nuns) June 21, 2019
ok we promise not to make any more https://t.co/TRPux36kcX

— Netflix UK & Ireland (@NetflixUK) June 20, 2019
Character mapping
Sheen and Tennant likened the script reading to "dancing with each other". The actors rehearsed and rehearsed until they got the performance right.
Crowley is described as having red hair but Tennant didn't want to wear wigs. "That means you had to turn up earlier on the set," Sheen explained. Tennant said his wife suggested that he dyed his hair red and that solved the problem.
"Crowley keeps up aggressively with fashion," Gaiman said. "Aziraphale likes to wear the same coat over a long period of time until it frays a little."
Sheen read the book and the script to get a strong sense of Aziraphale's character. He used Aziraphale's waistcoast and jacket as references. He also used "books" as reference objects to build the angel's character. Aziraphale, in his human guise, is the owner of a bookshop. Tennant told us he used "cars" to develop Crowley's character. In the book, the devil drives a 1926 Bentley.
The rock band Queen permitted Gaiman to use hits such as Bohemian Rhapsody and You're My Best Friend for Crowley's theme soundtrack. Wherever Crowley makes an entrance, a Queen song would play in the background.
Challenging stereotypes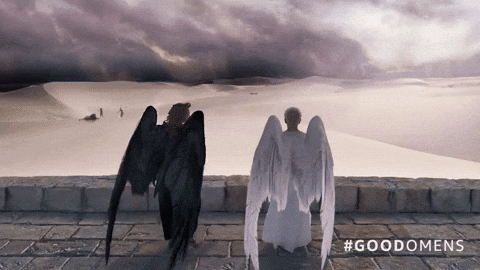 Through Crowley and Aziraphale, Gaiman invites us to examines tropes and stereotypes associated with maligned and privileged characters. Those who study plays and literature would know that Shakespeare's Shylock from The Merchant Of Venice and Caliban from The Tempest are two of the most scrutinised antagonists in English fiction. Are they really monsters, or does that view depend from where you're standing? Gaiman and Pratchett make the same case with Crowley the unwilling 'evil' accomplice, and Adam Young the reluctant Antichrist. At the Southbank event, Gaiman touched a bit on The Jew Of Malta (1589) by Christopher Marlowe, which got us thinking about literary criticism on anti-Semitism and Orientalism in Elizabethan and colonial literature.
Sheen informed the audience that in the initial character development, Crowley and Aziraphale had started out as one same person. Good Omens provides the audience with the opportunity to see how the opposing forces of 'good' and 'evil' – although not in the strictest Biblical sense – work together to stop calamity from happening.
One for the fans
A lot of attention was paid to the title sequence of Good Omens. This is a Neil Gaiman adaptation, after all. It has got to be fantastic in the graphic design department. The author said the title sequence was inspired by Edward Gorey and Hieronymus Bosch. Episode 3 has the longest opening sequence of 23 minutes.
This is not gratuitous. Far from unusual. Batman Ninja's opening sequence lasted until halfway through the anime, when Batman finally becomes a ninja.
Gaiman revealed that some scenes had to be cut out because of budgetary constraints. As an alternative, fans can buy The Quite Nice and Fairly Accurate Good Omens Script Book to get an idea how the series could have played out.
If you take a peek at the fan art on Deviant Art and Google, you'll see that fans wasted no time in re-imagining Good Omens. Sheen didn't enjoy doing the publicity photoshoot, but it was worth the effort. Sheen and Tennant have provided fans with a new visual reference for the characters they played.
Gaiman said: "I made it for Terry. Terry loved Good Omens. I love Good Omens. I look around," and he gestured at us, the audience, "…you're not homogeneous. I made it for you."
About Good Omens