Michael Rosen's latest book of poems tells of his time fighting off Covid-19 in intensive care and surviving the disease. It's the inspiration we need to get to the end of the tunnel. In this edition, we also remember fondly our colleague, photographer Phil Wolmuth, and reflect on the poignant message of loyalty and sacrifice offered by the latest Yin Yang Master instalment.
When plain words won't do
This Easter holiday we'll be getting two books by Michael Rosen, Many Different Kinds of Love: Life, Death, and The NHS and Michael Rosen's Sad Book.
The former is his latest work, illustrated by Chris Riddell, famed for his creative direction of The Sandman. The latter is a second-hand book of a work published in 2004, with illustrations by Quentin Blake.
Many Different Kinds of Love features a series of prose-poems, one of which is Feeling Unwell, about his time in intensive care with Covid-19. We were moved after listening to Rosen's recitation, published on The Guardian website. That piece captures exactly how we feel about surviving Covid-19 – though Rosen had it much worse.
Our interest in prose-poems is rooted in our love for free-form poetry popularised by E. E. Cummings – and of course, hip hop rappers. We're not going to lie: we love the vernacular as well as the 'high' art. T. S. Elliott famously disliked poems that aren't in verse but we feel that prose-poems – the way they defied or rather, refused, to uphold any predictable metering and traditional verse stacks – may be the 'form' chosen by Cummings and Rosen because of its jaggedness and unpredictability. Just like the reconstructed graphics of torn-up posters by David Carson signifies both trauma and triumph, free-form and prose perhaps mirror the unforeseen shockwave that the poets felt at the untimely passing of their loved ones. Cummings lost his father to a car accident. Rosen lost his son to meningitis.
We're no Rosen ourselves but we compose free-form on our mobile phone. Sometimes whilst commuting, sometimes at night after reading the news about the pandemic. There are times when plain words aren't enough to express our shock and grief. Untimely deaths send us into a free-fall. Words get snatched out of our mouth. Where we fall silent, we hope Rosen's poems will step in and be the voice.
More on Michael Rosen
In remembrance: Phil Wolmuth
We are sad to announce the passing of a dear colleague, Phil Wolmuth. Wolmuth was a highly respected writer and photographer whose work had been featured in publications such as Community Care and also catalogued by the National Portrait Gallery.
As a representative for the National Union of Journalists, Wolmuth had been instrumental in supporting GLUE Studio, the publisher of Story Of Books, in our early days as a creative business. The studio had worked with him on a few tech publication projects. His forte, however, was his study of the elderly, the vulnerable and London's social landscape, informed by his insight gained at the University of Oxford as a medicine and psychology student.
Early this year, Cafe Royale published Philip Wolmuth — London Series 2 Books, featuring his works on Notting Hill and King's Cross in the 70s and 80s.
Phil Wolmuth is an inspiration to us and he will be greatly missed by his family, friends and NUJ colleagues.
More on Phil Wolmuth
The Ying Yang Master universe expands on Netflix
The second Netflix film based on Onmyōji by Yumemakura Baku didn't disappoint – to our pleasant surprise. There were concerns that The Ying Yang Master would be a repeat of the dark and opulent Yin-Yang Master: Dream of Eternity, released barely a month earlier in February 2021 on Netflix. But nothing can be further from the truth.
The former, based on the manga that is based on the book, is as exquisite as its print version, from the set design, the plot, the soundtrack to the acting. This other movie, however, is definitely not a 'follow-up' to the February release. Based on the game that is based on the book, The Ying Yang Master (March 2021 release) holds its own in terms of set design, animation and storyline – and it is humorous to boot.
February's Ying Yang Master mesmerises and stuns with its whodunnit murder-mystery maze. March's Ying Yang Master, however, gets you running down the garden path as you keep up with a plot that's mapped out like a Guardian of the Galaxy adventure.
Again, the story focuses on the contract that binds a master to his or her guardian spirit or demon. Demon in this sense is more of an obedient genie than a devil. Some demons are forced into this contract, some do it out of gratitude and some do it for love, as in the case of our half-demon protagonist, Qingming (Chen Kun) and his master, Bai Ni (Zhou Xun).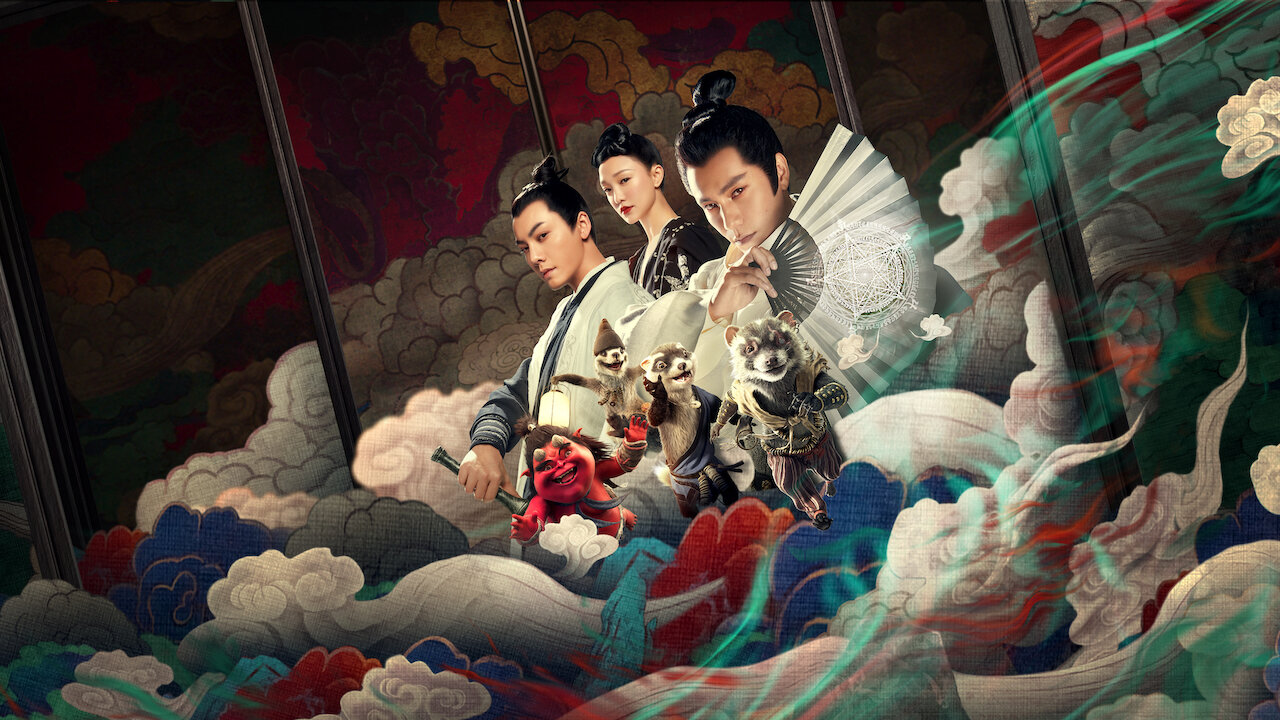 The tension is still there between Qingming and Boya (Chuxiao Qu) just like in Ying Yang Master: Dream Of Eternity. In this second movie, Chen Kun's Qingming is more mature, secretive and seductive, playing yang to Chuxiao Qu's Boya who is young, sprightly and impatient. Which is odd because visually, Qingming has always been depicted as the man in white (yin) and Boya the man in black (yang).
When we compare the two Ying Yang Master films, we think Chen Kun's Qingming is weightier, laden with inner conflict, compared with Mark Chao's Qingming. Make no mistake, Chao stays true to the yin part: his Qingming is light, bright and always in white. However, playing conflicted characters with hidden agenda is Chen Kun's thing. If you've seen him in Mulan (2009), Painted Skin (2008), Painted Skin: The Resurrection (2011) and The Rise Of Phoenixes (2018), you'll understand.
When it comes to the petulant – and unexpectedly courageous – Boya, we think Allen Deng's characterisation in February's Dream Of Eternity surpasses Chuxiao Qu's Boya of the second film. The manly Boya of the February film doesn't exude childish impetuousness. Always black in uniform and in disposition, Deng's Boya draws you in with his intensity. Not surprisingly, he sweeps us off our feet as he emerges as the hero.
It's also great to see Chen Kun acting against his Painted Skin co-star, Zhou Xun. In the Painted Skin movies, she is the demonic temptress. In The Yin Yang Master, she or Bai Ni is the beacon of virtuousness, the calm amidst the storm. But not even Bai Ni's contract as a master – or mistress – to Qingming could bind her beloved demon to her for life, as he has promised. His conscience tells him to side with evil. It is expedient: a lesser vehicle to help Qingming spare his loved ones from a terrible fate.
More on The Ying Yang Master universe